Afterwork New York #1
2019-10-25 18:00:00
2019-10-25 23:00:00
https://www.alumni-psbedu.paris//medias/image/thumbnail_6410091265d9b3bead76cd.png
230 FIFTH ROOF TOP
230 FIFTH AVENUE
NEW YORK
10001
US
Dear Alumni of New York !We are please to welcome all of you to our first PSB Afterwork in NYC !Let's meet at 230 Fifth Rooftop on October 25th with PSB Alumni's and students !About the event :Adress : 230 Fifth RooftopDate : Friday October 25thTime : 6pm - 11pmFree for everyone Rooftop Indoor - Outdoor  Finger food and 1 Drink for FREE offered by PSB Alumni.We look forward to seing each one of you. See you on October 25th !PS : Join the dedicated PSB Alumni new york group on Facebook : https://www.facebook.com/groups/1037026339833206/?source_id=290072667709942Please confirm your attendance by return email or by contacting Louis
https://www.alumni-psbedu.paris/event/afterwork-new-york-1/2019/10/25/593
La date limite de clôture des inscriptions est passée.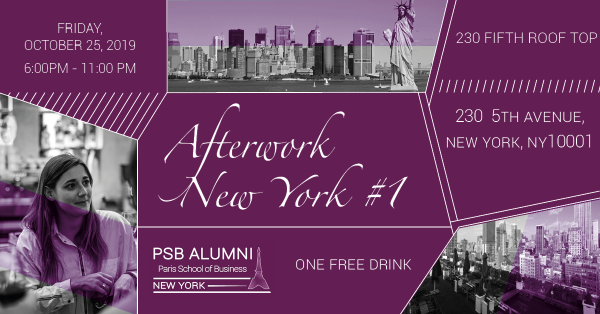 Dear Alumni of New York !

We are please to welcome all of you to our first PSB Afterwork in NYC !

Let's meet at 230 Fifth Rooftop on October 25th with PSB Alumni's and students !

About the event :
Adress : 230 Fifth Rooftop
Date : Friday October 25th
Time : 6pm - 11pm



Free for everyone

Rooftop Indoor - Outdoor

Finger food and 1 Drink for FREE offered by PSB Alumni.We look forward to seing each one of you.


See you on October 25th !
PS : Join the dedicated PSB Alumni new york group on Facebook : https://www.facebook.com/groups/1037026339833206/?source_id=290072667709942
Please confirm your attendance by return email or by contacting Louis